When planning a bike storage room, the bike storage rack you select to store and keep the bicycles secure is going to be one of the most important decisions you make.
With plenty of indoor bike storage solutions to choose from, which one is best?
The best multiple bike storage option for you really depends on the specifics of your area and your overall needs. To help you find the right solution for you, we're going to look at a couple of different scenarios, starting with the lowest cost per parked bike.
Indoor Bike Storage Racks
When cost savings is the driving factor for your bike storage area, Inverted U Bike Racks will be the best value you can find.
At $119 for a single inverted u bike rack, it can store up to two bicycles. This amounts to an average of $59.50 per bike parked bicycle.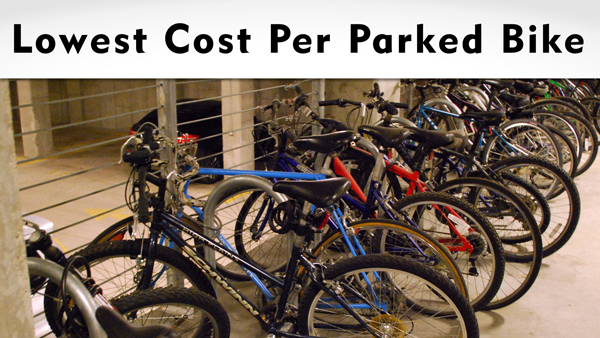 For comparison's sake, the next closest item in terms of price per parked bike, is the vertical bike storage rack, at $109 per bicycle.
The drawback of the inverted u bike rack is that it's one of the most inefficient in terms of use of space.
They require the most amount of space between racks - 48 inches recommended, 36 inches minimum - as well as set backs from walls of - 36 inches recommended or 24 inches minimum.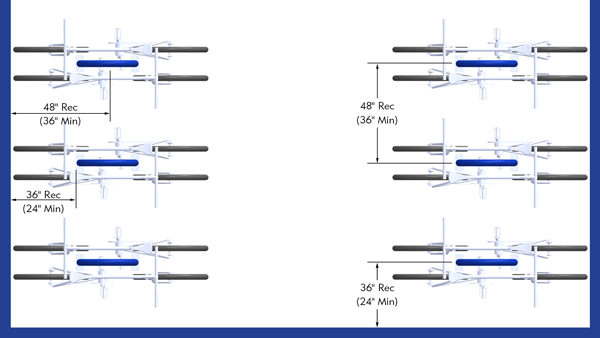 This space is needed to accommodate not only bikes when parked, but for access from the side to lock and unlock the bicycles, as well as maneuvering bicycles into and out of the rack.
Indoor Bicycle Storage Solutions | Maximum Bike Parking Spaces
If you don't have the area in your bike storage space to park the number of bicycles you need using inverted u bike racks, lets take a look at the next scenario where we park as many bikes as we can in the least amount of space.
For this you want to look at a two-tiered Horizontal Bike Storage system. This will allow you to store the maximum number of bicycles in the designated space.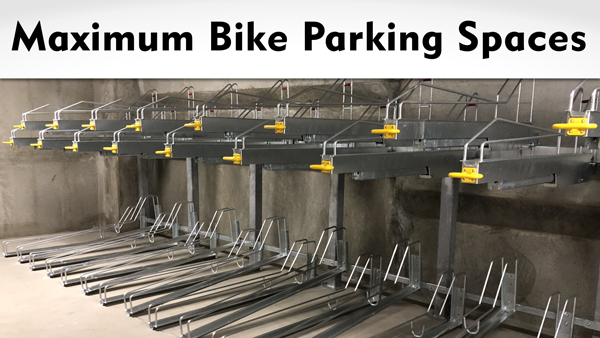 These only require a width of six feet and can park six bicycles in that area.
This will be one of the most costly options however.
It also requires users to be able to lift their bicycles to the upper level.
A remedy for this would be the Madrax Boost Bike Storage solution. It has a lift assist to make it easier to park bicycles on the upper racks. The cost for a 6-bike unit is $3,919 or an average of $653.20 per parked bicycle.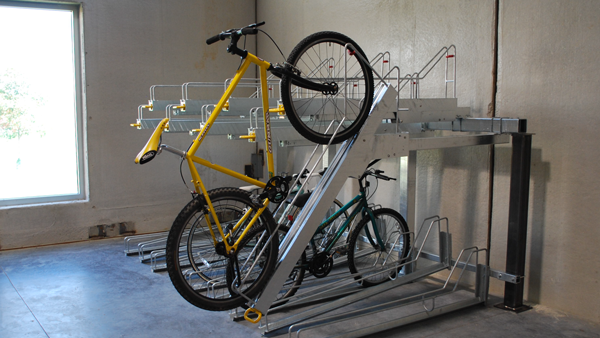 Cost-efficient, High-density Bike Storage
As some of these bike parking and storage solutions might not fit into everybody's budget, but there's still a need to park many bicycles, we'll now look at what is going to be one of the most cost-efficient, high-density bike storage solutions.
By placing two freestanding Vertical Storage Racks back to back in your space, your total cost per parked bike will be down to about $102.
This will require an area that is 180 inches wide and 91 inches long.
The two units will take up 84 inches (42 inches per unit) and need an aisle space of 48 inches on each side making up the 180 total inches.
The unit is then 61 inches long with 15 inches of clearance on either end for the total of 91 inches.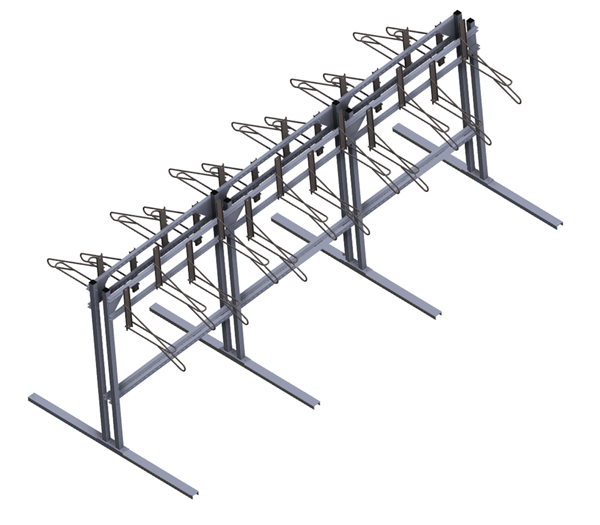 In addition to the vertical storage rack, the wall rack is another option for vertically storing the same number of bicycles in the same amount of space.
This rack features a track that keeps walls from getting dirty or scratched. It also has a smaller profile so it doesn't protrude as far out as the Vertical Bike Storage Rack.
The other notable difference about this wall mounted bike storage is that the bike wheel hangs from a hook. As compared to the wheel being suspended in the vertical bike storage rack. The benefit of the hook is that it accommodates larger wheels.
Whichever style you choose, you can park the greatest number of bicycles for the least amount of money with these solutions when this amount of space is available.
The Best Bike Storage Rack for Your Space
There are numerous other factors that will determine the best bike storage solution for you. Depending on your needs, the shape of your bike room, total area, and budget, it might actually be best to utilize different styles of bike storage racks to best fit your needs.
And don't forget about outdoor bike storage.
For more how-to information on creating effective bike storage, check out the Madrax Bike Storage Guide.
Or work with Madrax to come up with a personalized bike storage plan that will lay out the best options for your specific situation. Contact us here and a sales rep will follow up within one business day.
There are many things to consider while on the path to selecting the best bike storage racks.
Use this information as well all the items in the Madrax Bike Storage Resource Center to help inform your decisions.


Note: All prices were as of date post was published. View product pages for up-to-date pricing.
---
Related Resources
---