---
We often get contacted with a similar question: 'Here's the room or area I have to work with, how can I store the most bicycles in here?'
Depending on your bike storage space, the specific solution will vary. But there are certain styles of bike racks designed for high density bike storage.
And when it comes to creating the most bike parking spaces, the first thing to look at is a two-tiered horizontal bike rack system.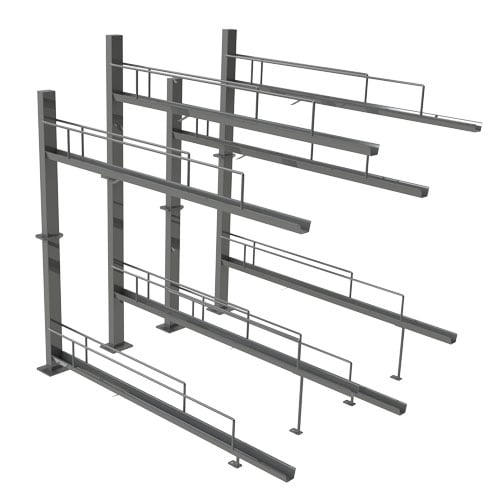 With the two levels of racks and staggered rack heights, this solution efficiently creates a lot of spaces for parking bicycles.
To utilize this type of bike storage rack you'll need a minimum ceiling height or vertical clearance of 9 feet.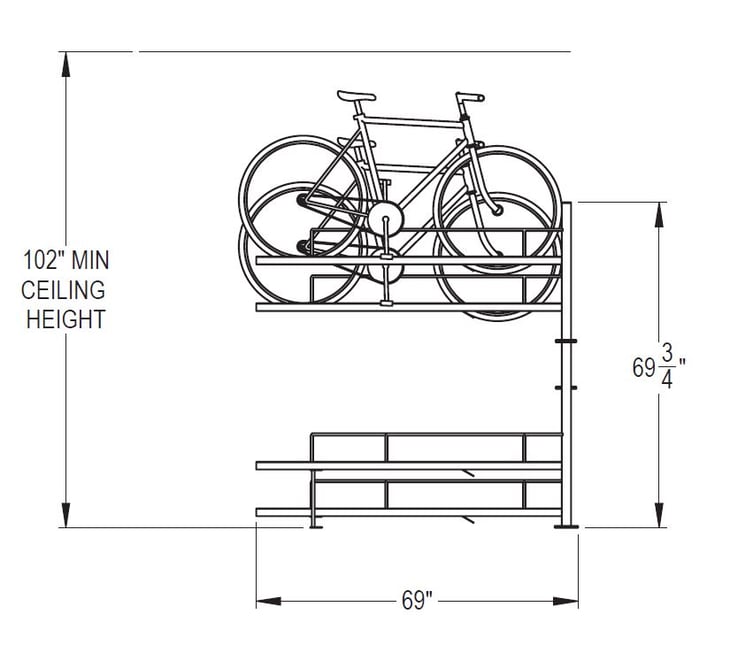 You'll also want a recommended length of 144 inches. This allows for room for when the bicycle is stored, as well as the necessary amount of room for maneuvering bicycles into and out of the racks.
The total width will vary based on how many bike racks are used. For reference, 8 racks can be parked within a span of 80 inches.
Another consideration with these racks is that users will need to be able to lift their bicycles to utilize the upper-level of racks. There are solutions available with a lift-assist element to make it easier to park bicycles on the upper tier. One example is the Madrax Bike Boost.

The rack elements on the upper level are spring-loaded to assist with lifting the bicycle into the raised storage position.
As these types of racks are intended for long-term storage, security is a primary concern. It's worth making sure any bike storage system you select, has an element built into the rack that allows the bicycle to be locked to it.
Vertical Bike Storage Racks
If you can't do two tiers because of height or lifting challenges, the next option for high capacity bike storage is to go vertical. The key when parking bicycles vertically, is to stagger the heights of every other rack.
This eliminates the issue of handlebars overlapping and reduces the amount of space needed between each bicycle storage spot.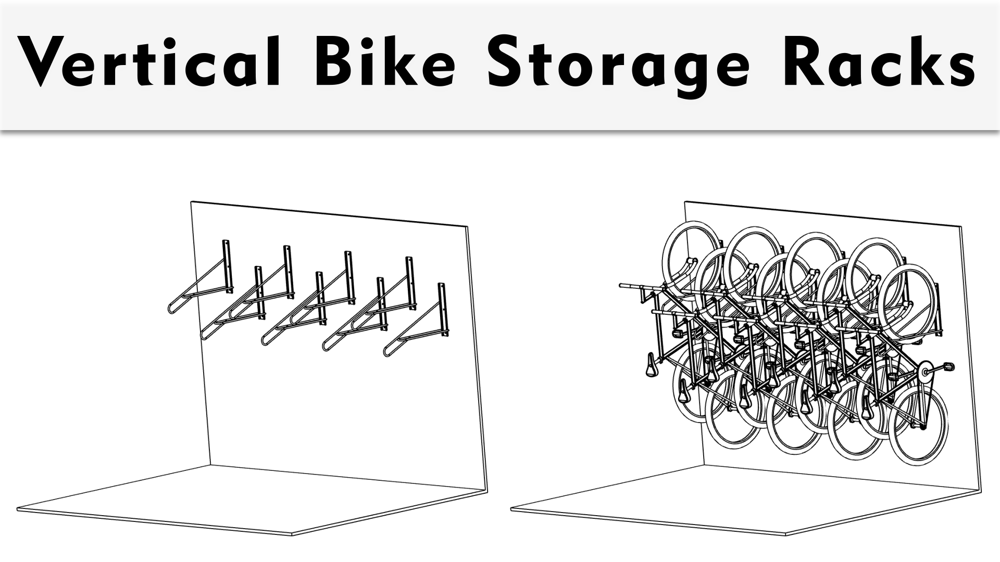 One of the best things about vertical bike racks is their versatility. You can purchase just a wall mounted rack unit.
This gives you some more freedom in their placements and to work around obstructions that might be on the wall. Like electrical or pipes, for example.
These parking racks can also be incorporated with a Unistrut type system. This makes it easy to re-positioning the distance between each rack without having to create additional holes in the wall. This would require an unobstructed length of wall, however.
The other option is to place vertical bike racks using a freestanding unit. These are great for increasing the bike storage capacity of a room by creating bike storage spots in the center or "open" area of a room.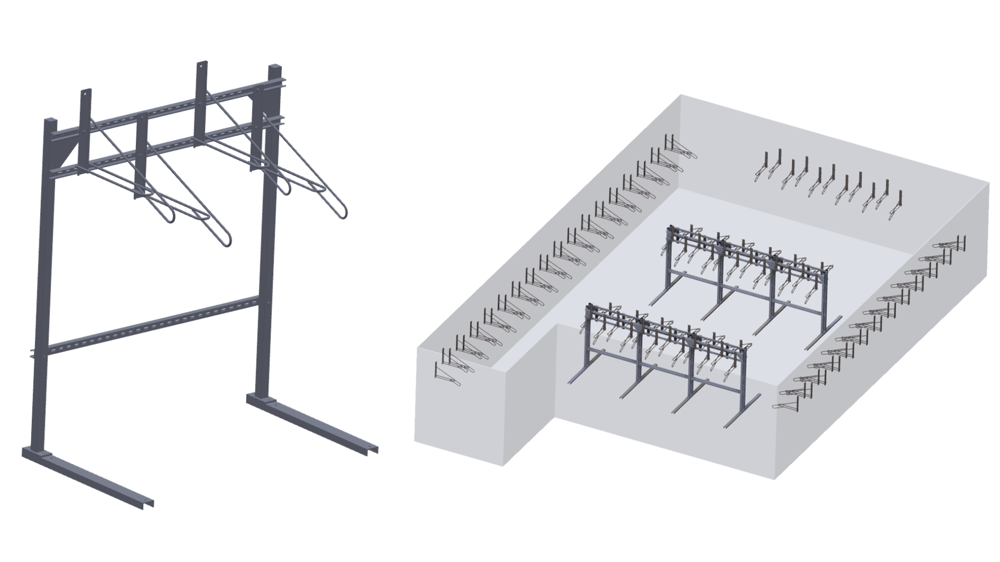 Freestanding vertical bike racks take let bicycles be stored in the center of rooms where there are not walls to anchor racks to.
In terms of the space required, you'll want to have 48 inches for the bicycle to occupy when stored, and another 24 to 48 inches for aisle space.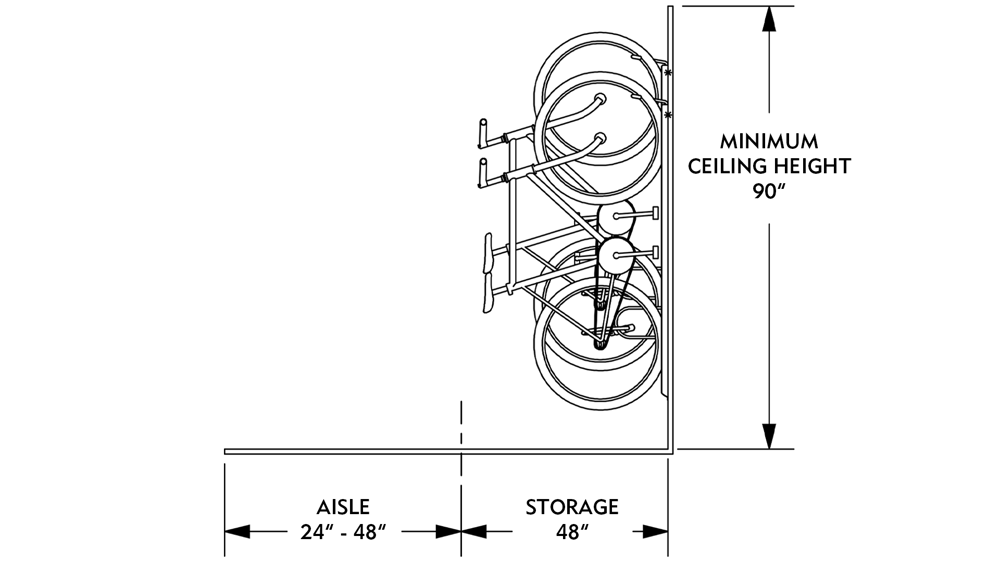 Freestanding units are also ideal options when wanting to take advantage of vertical bike parking, but you are unable to anchor into the wall.
High-density Ground Bike Storage Racks
The bike room racks we've discussed to this point utilize vertical space. But often, ordinances or the restrictions of the intended users may limit these as viable options.
When needing to stick with ground bike parking, high-density bike racks come in two styles: doubled sided and vertically staggered.
The rack offering of a double sided bike rack is that the direction of each rack or bike parking spot alternates. For example, every other parked bicycle would be parked facing the same direction.
When planning to set up your bike storage facilities this way, only use racks that allow for enough setback from the opposite-facing bicycle, to avoid handlebar conflicts. The Madrax Sentry would be an example of such a rack.
The other way to avoid overlapping handlebars is for every other rack element to be elevated. The Shark-up is one example of a vertically staggered bike rack. It can be configured as two-sided or as a single row of racks.
Either way, the distance between each bike parking space is minimized in order to achieve the maximum volume of bike parking spaces.
Amenities
Having amenities for cyclists that will help them maintain their bicycles are also highly-valued additions to any bike storage area. Items like a wall mounted bike stand or tire pump.
Benches are also great to let users rest, change shoes or clothes and work on their bicycle.
Bike Storage Plan
Any of these types of racks will help you to create effective indoor bike storage.
Which one or combination of solutions will best fit your needs depends on your specific situation.
For information on how to transform your space into a functional bike room, download the Madrax Bike Storage Guide. Use this comprehensive resource to easily go from site planning through rack selection and layout.
Or, if you'd prefer, contact Madrax and the sales representative for your area can work with you to come up with a plan that will achieve your goals. We can even layout your bike storage area within the specifics of your blueprints or building plans for you.
---
Related Resources
---