When it comes to creating indoor bike storage, there are four types of bike storage racks you will primarily use.
But before we dive into the specifics of each type of bike storage rack, there is a common element any bike storage rack should possess.
Because the intent of bike storage is to park bicycles long-term, security is a main concern.
This means the rack should have an element that allows the frame and ideally, one wheel of the bicycle to be locked to the rack. This will keep bicycles more secure while they sit unattended for longer periods of time.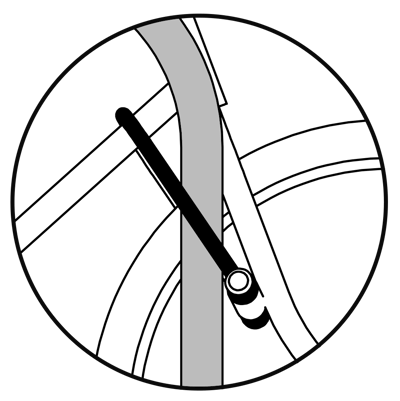 With that in mind, let's look at each type of bike storage rack.
Ground Mounted Bike Storage Racks
When used for bicycle storage applications, there are two types of ground mounted bike racks to consider – high density and standard density.
High Density
For bike storage, high-density ground bike racks are typically a popular selection.
This style of bike rack allows bicycles to be parked closer together, as the height of each rack alternates and avoids the problem of overlapping handlebars.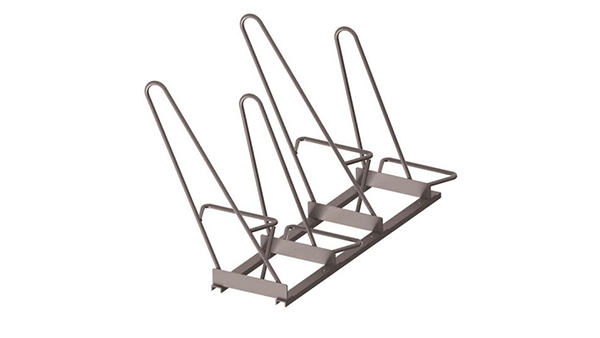 The Shark Up bike rack from Madrax is one example of a high-density ground bike rack.
These racks are a great choice when wall-mounted bike racks are not an option. Either because racks are restricted from being anchored to walls or it is mandated the bike storage be ground mounted.
Standard Density
Standard density bike racks are another category of ground bike racks often used in bike storage areas. Inverted u bike racks, post & ring and freestanding bike racks would be examples.
The style of these racks does not accommodate as many bicycles to be stored as high-density racks. But they are often used in designs intended to make the bike storage areas easier to use.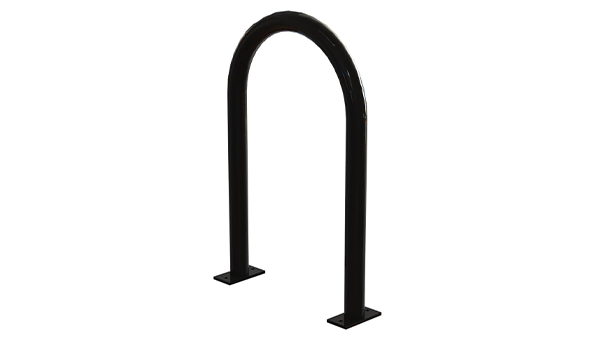 Additionally, you will often see these racks where ordinances call for minimum distances of at least 24 inches between racks.
Most high-density bike racks would not meet this requirement as the spacing between those racks is usually about 15 inches.
Racks on rails or freestanding ground-mounted bike rack units are options when racks cannot be mounted to the floor. This could be because of drilling or other restrictions.
Vertical Bike Storage Racks
The reason vertical bike racks are used so often is because they're designed to store the bicycle vertically – which reduces the amount of floor space needed to park a bicycle.
The racks can also be staggered vertically. And like high-density ground mounted bike racks, this allows bicycles to be parked closer together, maximizing the number of spots that can be created.
The next thing you will need to consider when evaluating vertical bike storage, is that they are generally available in three mounting styles. Those would be Wall Mounted, Strut and Freestanding.
Wall Mounted
A wall mounted bike storage rack is secured directly to the wall by installing anchors in the wall. This means you will need to be able to drill into the wall to use this type of rack.
In terms of the different styles of wall-mounted racks, most commonly you will see two types. One that consists of just an element to hold the front wheel of a bicycle.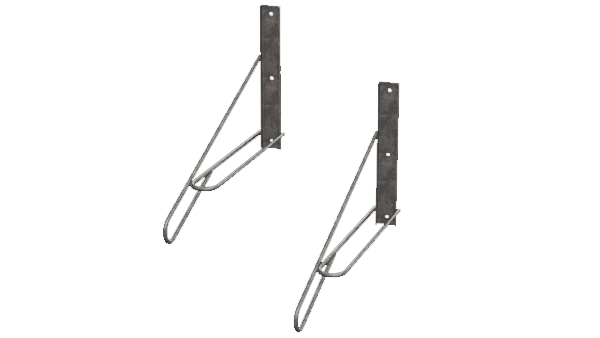 The other has an element to hold the wheel, as well as a tray where wheels of the bicycle will rest. The tray feature is often selected to help protect walls from dirt, mud, sand, salt and other debris on bicycles wheels that can be transferred or cause damage to the wall.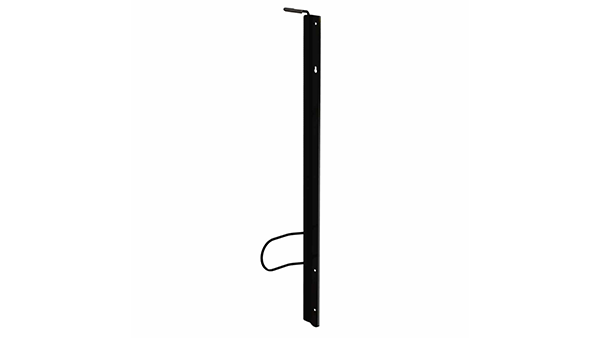 Strut
The second wall bike rack mounting configuration is a strut mount. With this, a strut or c channel is mounted to the wall. The racks are then anchored to the channel. Again, to use this type of rack mount, you must be able to anchor into the wall.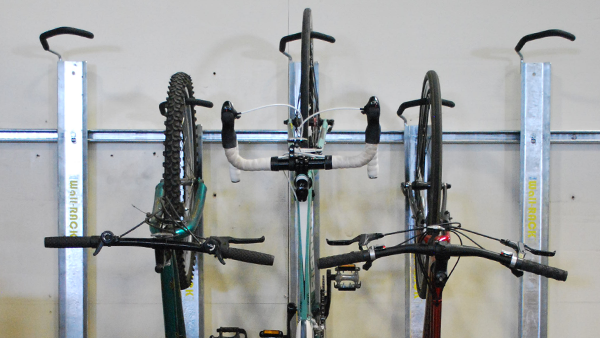 The benefit is each rack can be re-positioned along the channel without the need to drill more holes into the wall. This is advantageous when you want the option to expand the number of racks in your bike storage area in the future.
This rack style makes it easy to set up your bike room one way now and easily add to and reconfigure later.
A potential challenge in using a strut-mounted vertical bike rack, other than drilling restrictions, is there would need to be an unobstructed length of wall for the channel to run.
And like the wall-mounted, these are available with just the rack element or a rack and tray.
Freestanding
For situations when you want to use vertical bike storage, but are unable to anchor into the wall, a freestanding bike rack is your best option.
This type of rack is a stand-alone unit with legs and racks anchored to a channel. Just assemble and place where desired.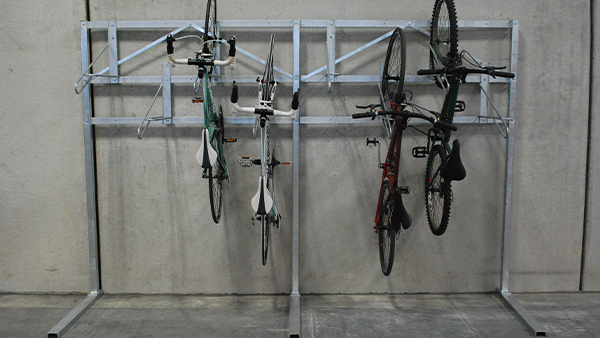 Freestanding vertical bike racks provide the additional benefit of creating bike storage spots in the open areas of rooms – no walls needed. This allows you to maximize the bike storage density within the area.
Horizontal, Wall Mounted Bike Storage
Bicycle storage doesn't have to be confined to a bike room or its own designated area.
There are instances where you need to create bike storage spaces in an existing building where a separate area doesn't exist, or it is not in the construction plans.
For these situations a horizontal, wall-mounted bike storage rack would fit your needs. These are well-suited to utilize most any wall space. Like the front of car stalls in a parking garage for example.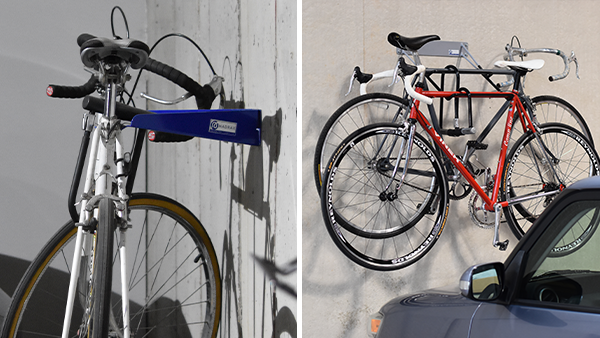 Two Tier Bike Storage Racks
Another popular style of bike storage rack, because of its high-density design, is the two-tier bike rack.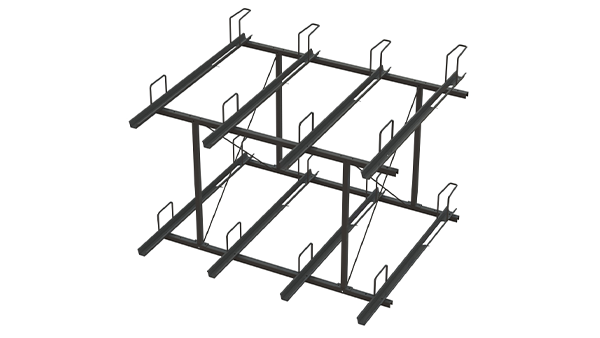 With these racks there are two tiers, or levels, for storing bicycles. In terms of creating the greatest number of bicycle storage spots along a length of room, this is the rack to choose.
But, as bicycles are parked horizontally on these racks, there needs to be enough aisle space behind the rack to effectively maneuver bicycles into and out of the racks.
So two-tier bike racks typically require wider areas to be installed.
You will also need to ensure your ceiling height is enough to accommodate storage of bicycles on the upper level, along with additional clearance for loading the bicycle. Generally, this is around nine feet. But could vary depending on the specific rack you select and your local ordinances.
The other item worth considering with a two-tier bike rack, is a lift assist.
This is a feature where the rack element on the upper level slides out and the rack tilts down to the floor. Making it easier for the bicycle to be loaded on the rack and returned to the upper storage position with the bicycle.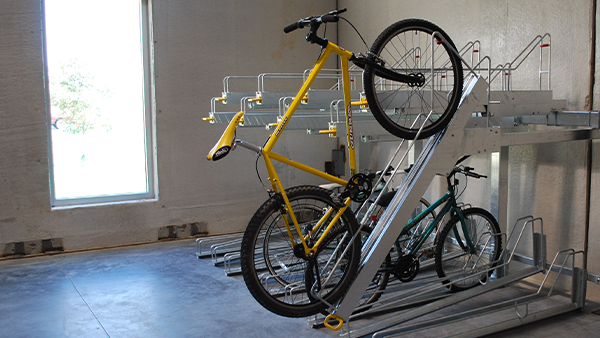 Bike Lockers
Another bike storage solution worth looking at, are bike lockers.
Because they completely encase the bicycle, they provide an additional level of security. Making them the most secure choice for storing bicycles.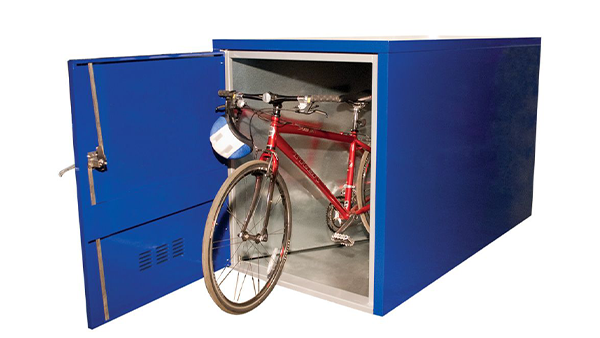 To maximize bike locker storage spaces, a single locker can be configured to hold two bicycles. A partition divides the locker and doors on each end of the locker grant access to one of the spots.
Further, bike lockers can be stacked to create more storage in the available area.
Vertical bike lockers are also an option when wanting to reduce the locker footprint.
Once you have an idea for the type of bike rack to use, the next step will be to properly lay out the bike racks to achieve the necessary number of bike storage spaces.