Before you can put together any sort of bicycle storage ideas, plan or layout, you need to know your bike storage requirements.
How many bicycles need to be stored?

What are the restrictions on types of bike racks that can be used?

What are the spacing, setback and aisle ordinances?
To find these answers, you should start by reviewing the local municipal codes. If you're unfamiliar with the local ordinances where the building resides, we recommend using the website library.municode.com.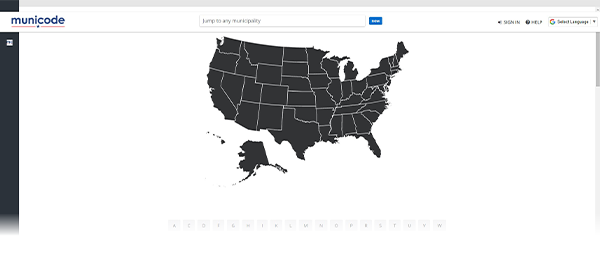 Using this website, you will find a collection or municipal codes and can even search within the text of the documents.
Following the local codes, you will then need to apply best practices to the make-up of your room.
Let's get started by taking a closer look at the key requirements.
Bike Storage Space Requirements
In your review of the local codes, the first thing you will want to look up are requirements for the number of bicycle parking spots.
Often this is a mandated ordinance, typically based on the number of rooms, building occupants or square footage of the building.
Knowing exactly how many bicycle parking spaces are needed is crucial information moving forward. It will impact your decisions on the type of bike racks to use and necessary space to install them.
If there is no ordinance requiring a certain number of indoor bike storage spots, we suggest following the APBP recommendations for your bike storage room or area.
For office buildings the guideline is 1 bike storage space for every 10,000 square feet of floor area.

For buildings with multi family bike storage, plan on a half space of bike storage for every bedroom.

Health care and hospitals - either one and a half spaces for every 20 employees or one space for each 50,000 square feet of floor area. Whichever is greater.

Public elementary, junior high and high schools should have one and half spaces for each 10 employees. Plus, one and half spaces for each 20 students of planned capacity.

For colleges and universities, it's one

and a half spaces for each 10 employees, plus one space for each 10 students of planned capacity. OR, one space for each 20,000 square feet of floor area.

Whichever is greater.
There is also a third option for determining bike storage spaces, store as many bicycles as possible in the area designated for bicycle storage.
It's also worth remembering, these are guidelines for long-term bike storage areas. These do not reflect the spots needed for short-term bike parking.
Bike Storage Racks & Spacing Ordinances
In addition to the number of bicycle storage spots you will need to create, you will want to review the municipal codes for items pertaining to approved bike storage racks.
Ordinances can list out criteria a bike rack must adhere to. This might include materials or certain measurements.
It may also restrict certain types of bike racks. For example, bike racks requiring the user to lift the bicycle, like a vertical bike rack or two tiered, might not be permissible in senior facilities.
You'll also want to be aware if there are any ordinances on spacing of bike racks. Things like how far apart each rack needs to be placed. If there needs to be aisle space behind the bike rack. Or setbacks from walls and other objects.
Wall Materials
Once you know the number of bicycles spots and municipal code requirements, you will now need to consider the physical properties of the bike storage site.
The surface that the bike racks will be installed on will play a key role in determining the best options for your bicycle storage area - with walls being the area of focus.
If you plan to use wall-mounted bike racks. The material of the wall will determine if bike rack can be used and how it can be mounted to the wall.
For wall materials, poured concrete is ideal. Generally, you can anchor bike racks directly into the concrete.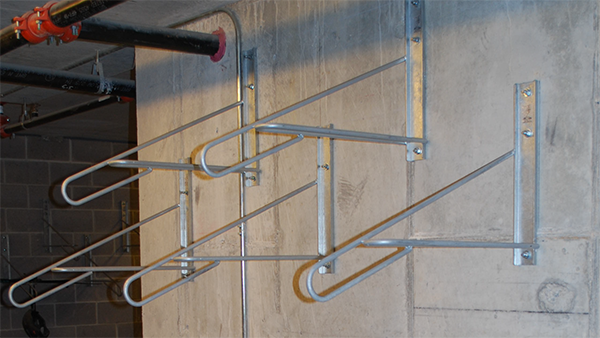 If installing into existing concrete, there may be limits as to how deep the concrete can be drilled. This is important to know as many bike racks require it be fastened to the wall with an anchor bolt.
For concrete blocks, brick, as well as steel and metal studs behind drywall, these might require specific mounting hardware not available with all bike racks.
When anchoring into a wall is not an option, a freestanding bike rack will be the best solution. We go more into details about styles of bike racks and the best situations to use them in another post. But for this article, it's worth noting not all bike racks require anchoring to walls.
For those that do, again, make sure to check local ordinances on what is allowable for drilling and anchoring into walls.
Obstructions
The next item of note with walls, would be any obstructions. Like mechanicals, plumbing, electrical fixtures, windows and so on, that would inhibit a bike rack from being installed on the wall.
With individual racks, there is more freedom to work around these obstructions and place the racks where you would want them.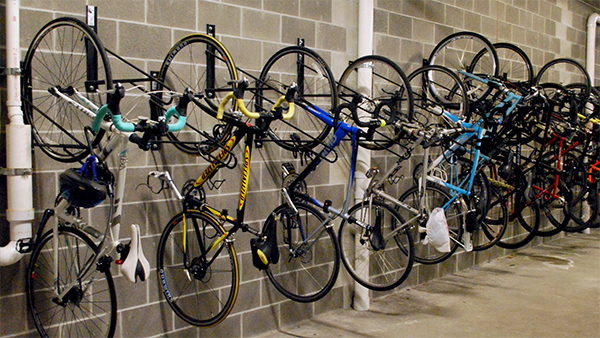 Obstructions become a greater challenge when you want to install a system with bike racks on a u-channel or a freestanding unit. These would require a smooth length of wall.
Ceiling Height
Ceiling height will also need to be taken into consideration. With vertical bike racks and two-tier bike racks, there needs to be enough clearance above the rack to lift the bicycle onto the bike rack. Your municipality's codes may also specify the necessary amount of clearance.
Room Shape
The shape of the room also affects the outcome of your bike storage area. This comes into play with the amount of space behind a parked bicycle that needs to remain clear, thethe aisle. With rooms that have walls that narrow, the number of bicycles that can be stored may be reduced due to the necessity of the aisle.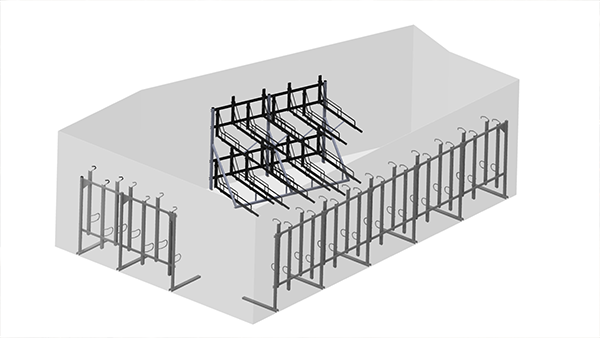 Other objects within the bike storage area, like pillars and beams, must also be accounted for, to ensure these do not limit the needed spacing behind a bike rack.
Take Notes
As you collect this information, we encourage you to write it down and have on hand for easy reference later.
Reason being, these items along with your overall goal will guide you to the best bike storage rack solutions to use in building out a bike storage area in your building.