To create the most effective bike storage area, you want to let your goal guide you to the ideal layout.
Use these common objectives for bike storage to help build out your bicycle storage designs.
Biker Friendly
If you expect tenants to be more active in their cycling, they may find the most value in a biker-friendly layout.
Ground-mounted bike racks
Adequate clearance around the rack
Prominent aisles
The additional space around and between racks gives users more room to maneuver within the bike storage area. It's also easier to access and lock the bicycle from the side.
Additionally, floor bike racks don't require lifting to store the bicycle. Another advantage for those regularly using the space.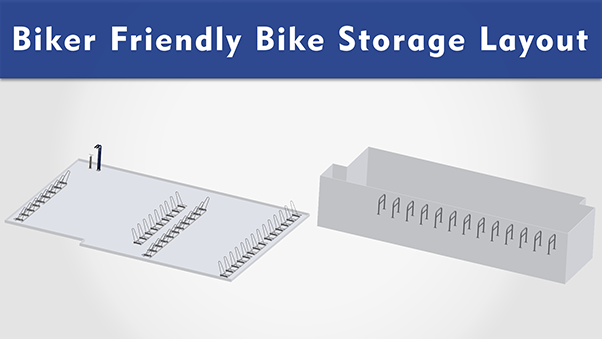 This type of design works well for commuters who rely on their bike to be a primary mode of transportation.
They will appreciate the ease in accessing and returning their bike to storage. As well as the reduced chance their bike is damaged by another bicycle being put into or taken out of storage.  
In addition to easily accessible bike storage spaces, a biker-friendly layout should include amenities that make the space more useful for cyclists. Items like bike repair stands, tire pumps and benches should all be considered.
The main drawback to this design is the lower density of bike storage available per square foot. 
High Density
With a high-density bike storage design, you would want to create the greatest number of spaces to store bicycles in the allotted area - that also adheres to all ordinances and best practices.
Vertical bicycle parking

Two-tiered bike racks

Reduced spacing between racks

Minimum aisle and clearances
To fit in the most storage spaces, you'll most likely incorporate vertical and/or two-tiered bike racks along walls and in open areas.
Using these types of bicycle storage racks you can place racks closer together and achieve the highest density of bike storage per square foot.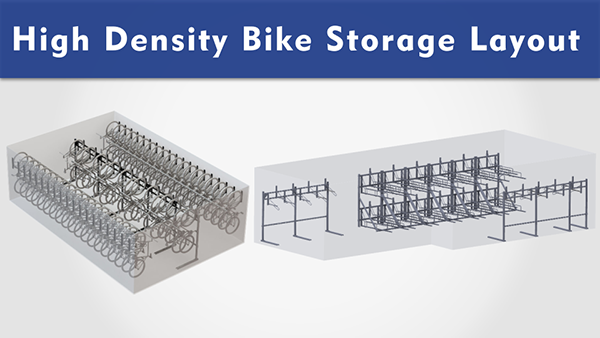 For buildings with ordinances restricting vertical bike parking, high-density ground mounted bike racks would be used to meet the codes and store the most bicycles.
While this type of layout does store a greater number of bicycles, it also makes the area more congested. Which could make the space unpleasant for multiple users at the same time.
On one hand, the area could be viewed as a benefit for those who just want a spot to store their bicycle. But a less-than-desirable option for those who plan to regularly use the area.
It also would not work if users of the space have certain physical limitations. For example, those unable to lift their bicycle off the ground would not be able to store their bicycles in vertical bike racks.
Balanced
Another option is to blend high-density and biker-friendly in a balanced layout.
Here you would fill part of the area with high-density bike racks, while placing more biker-friendly racks in the other portion.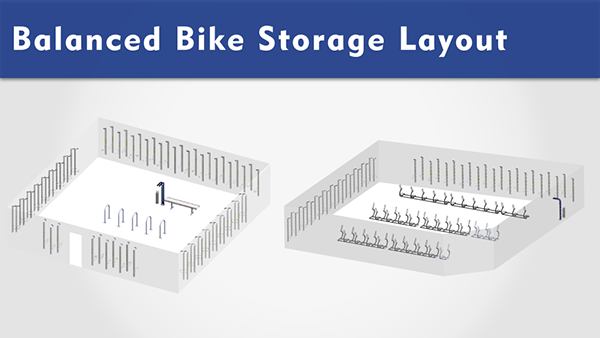 This will serve regular cyclists - who desire ease of use and adequate space to store their bicycle – as well as those whose main concern is just having a space to store their bicycle.