When creating a space that is meant to secure bikes for more than two hours - often referred to as long-term bike storage - a significant challenge will be to maximize the number of bikes that can be parked in the available area.
The solution?
Vertical Bike Parking Systems
These bike storage systems are ideal for these circumstances. They have two-fold benefits to achieve high-density bike parking:
Reduction of a parked bike's footprint and
Minimum space between parking "stalls"
Store a Bike Vertically
Vertical bike storage is accomplished through mounting bike racks that have been designed and are intended to hang a bike vertically on a wall or a freestanding mount.
By storing the bike vertically, what once was the typical bicycle footprint of 72" on the ground, turns into a 48" footprint when hung vertically.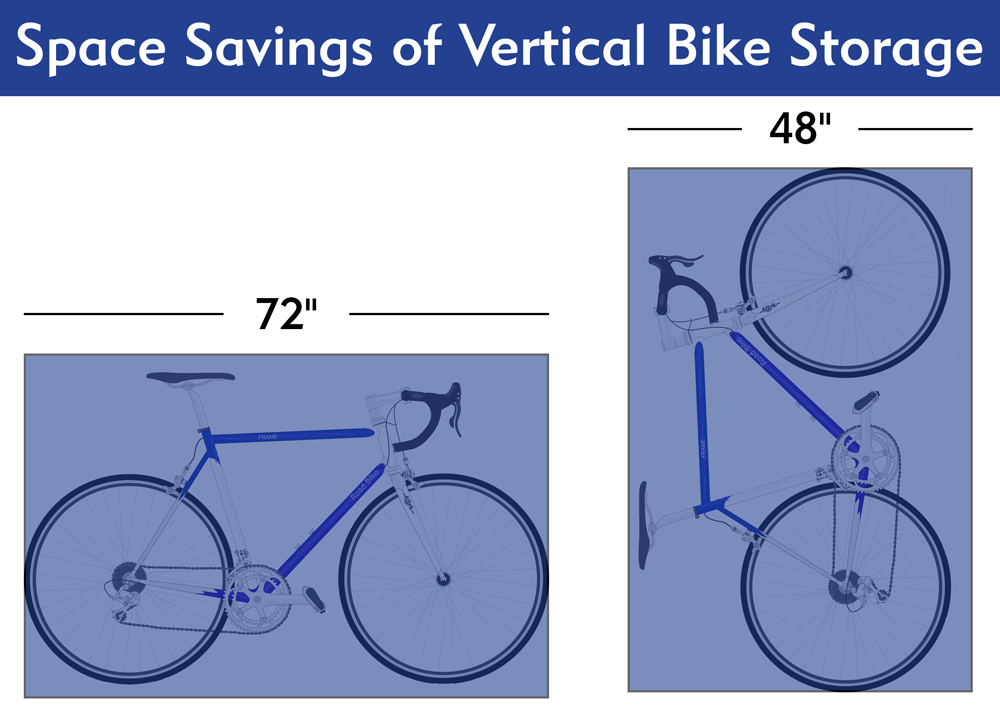 This additional 24" can then be allocated to create an aisle measuring a recommended 48" wide or a minimum of 24". It is recommended, in total, there be a distance of 96" from the wall to the farthest side of the aisle.
At a minimum, there should be 72" dedicated for vertical storage of bikes and the aisle. 48" for the bike and 24" for the aisle.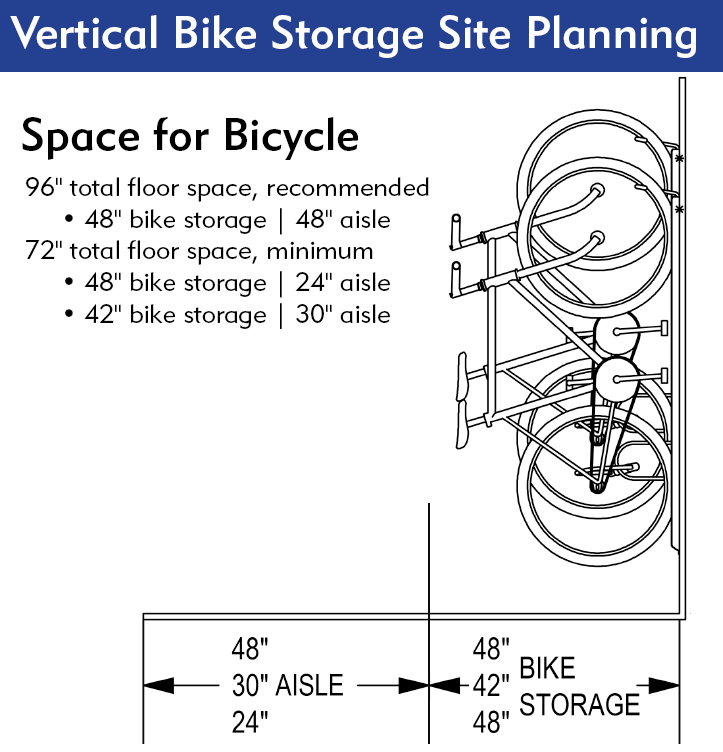 It is necessary to create aisles of appropriate width (48" recommended | 24" minimum) in your bike storage area that allows for loading/unloading the bike on the rack and travel in/out of the space.
Minimize Space Between Parking "Stalls"
The height of vertical bike racks can also be staggered vertically. By raising the height of every other rack, bike parking spaces can be placed closer together.
This would put the wall mounted bike rack height of the first rack around 82" off the ground (72" for the bicycle, 10" off the ground). The next rack would be 90" (72" for the bicycle, 18" off the ground).
The typical handlebar width is 24" and racks set at the same height would need this spacing to avoid handlebar conflicts. This spacing also does not account for wider handlebars, baskets and other items that would increase the width of a bicycle and cause overlap.
Vertical bike storage allows for the heights to be staggered and vertical bike rack spacing would be between 14" and 16".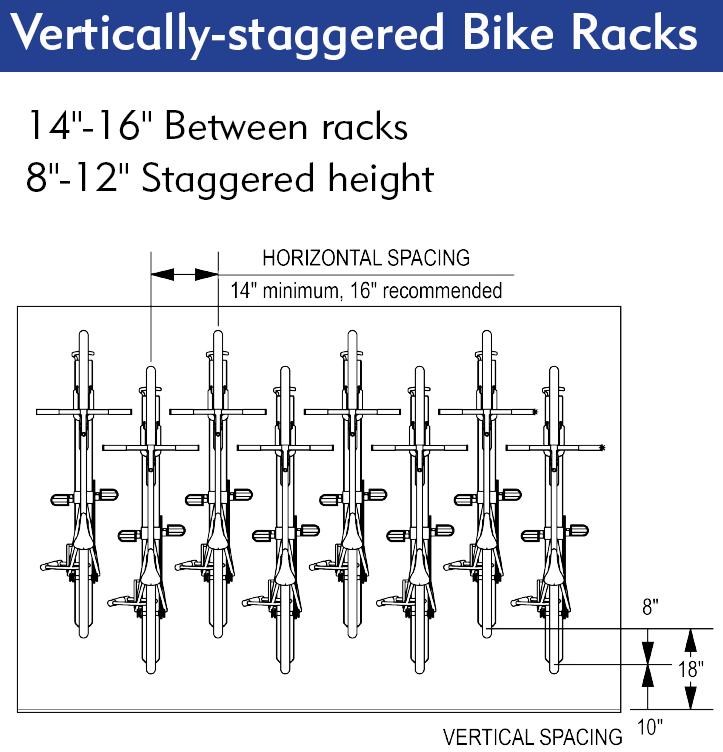 The staggered height between each rack will vary depending on the rack system you use, but it's likely to be between 8" and 12".
Ultimately, the shortened spacing because of the staggered height lets you park a greater number of bikes than you could by having racks at the same height on the wall or standard racks on the ground.
Vertical Bike Storage Considerations
Vertical Clearance
The most obvious consideration for vertical storage is total the vertical height of your space. The total height required will depend on the specific rack, but can typically be determined by finding the sum of three dimensions:
Ground clearance
Bicycle length
Lifting clearance
The necessary ground clearance will be dictated by the specific rack used. Though it is typically 8"-10".
The specific bike rack will also determine the lifting clearance which is measured by the depth of the hook that supports the bicycle.
The typical length of a bicycle (72") is then added to these two numbers to find your total height requirements.
The rack will ultimately need to be installed at a height that allows the bike to be lifted above the rack without hitting the ceiling, lowered into the rack element and then suspended a few inches off of the ground.
Obstructions
When planning to install vertical bike racks along a wall, certain systems require a horizontal strut to be mounted to the wall that the racks are then mounted to. These will require an unobstructed run of a wall to use.
Otherwise, individual vertical bike racks will need to be used. This allows you more control on the placement to work around these objects.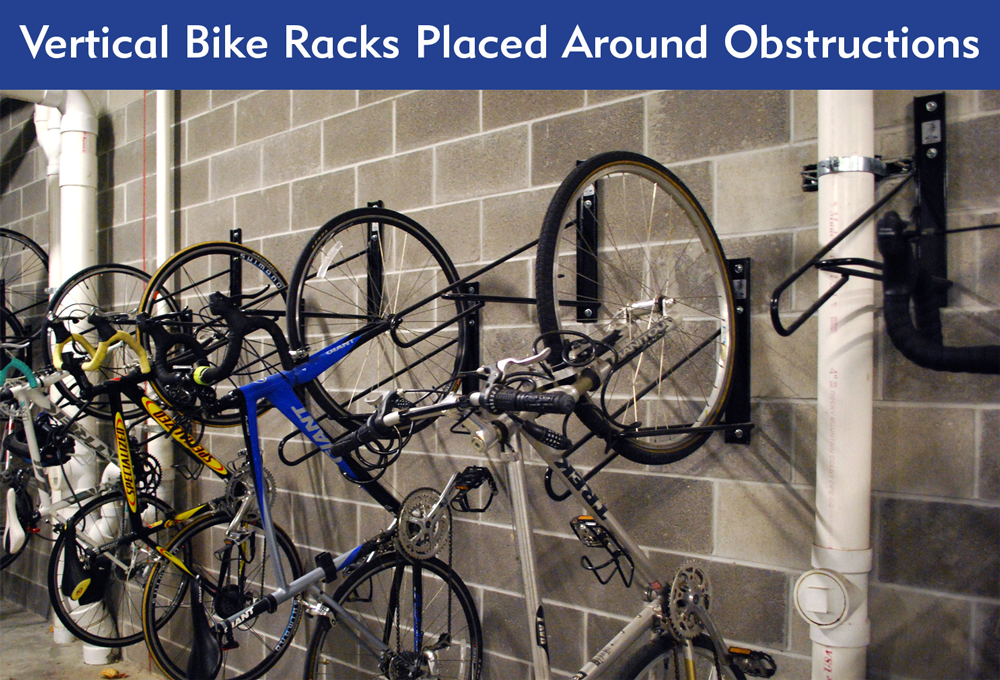 Mounting Surface
Vertical bike storage works best on concrete surfaces. As you will most likely be installing the rack into existing concrete, you will need to know the limits as to how deep the concrete can be drilled. This is because many racks require it to be fastened using an anchor bolt.
If the installation surface of your bike storage area is made up of concrete block, brick, steel or metal studs behind drywall, all of these will require specific mounting hardware. It is important to verify the vertical bike rack you plan on using offers the mounting hardware for your surface.
Users Ability to Lift Bicycles
Because vertical bike storage requires the cyclist to lift the weight of their bike to store it, it is not ideal for users who may have difficulty lifting bikes. Ground-mounted bike racks with vertical staggering may be preferable for these situations.
Bike Storage Systems
The outcome for your bike storage space should be to provide a reasonable expectation of securing a bicycle for longer periods of time with limited supervision.
To accomplish this, a vertical bike rack needs to have an element that allows the frame of the bike and at least one wheel to be secured to the rack using a U-lock.
This lockable element of the rack also needs to be constructed of materials that resist cutting, bending or deformation.
These are features of the rack that will offer the most security and make it difficult for potential thieves to break the rack with common tools that could be carried in a backpack.
Look for these elements when evaluating vertical bike rack options.
Direct Wall Mount Vertical Bike Rack
Direct wall mount vertical bike racks provide the greatest amount of flexibility in their placement as they can be spaced and staggered as needed. They are usually the most cost-effective type of vertical bike storage as well.
Each rack only requires a few inches of wall space, making them ideal for working around mechanicals and other obstructions.
Each rack would require putting multiple holes in a wall.

Strut Wall Mount Vertical Bike Rack System
A strut wall mount vertical bike rack includes a horizontal "track" mounted to a wall, with vertical bike racks attached to the track. The main benefit of strut wall mount bike racks is the ability to re-position bike racks without the need to drill new holes for mounting.
It also requires fewer holes to be drilled than direct wall mount racks.
To utilize these bike storage racks, a length of unobstructed wall is necessary to place the tracks.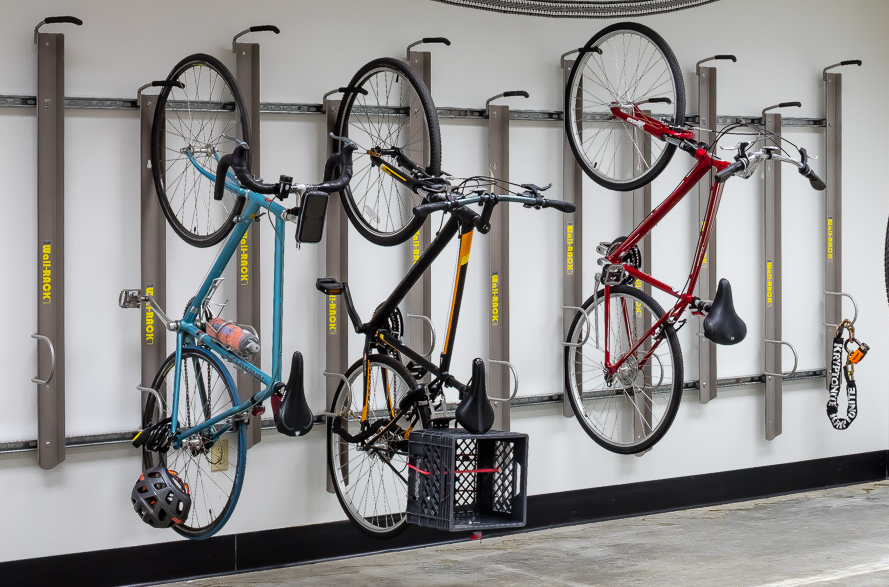 Freestanding Vertical Bike Rack
Vertical bike racks can also be configured to be freestanding. The rack elements are attached to a supporting frame that stands on the ground.
These are great solutions when mounting to walls is not a feasible option. They're also ideal for implementing vertical bike storage in open areas.
This style tends to be more expensive than other vertical bike storage options.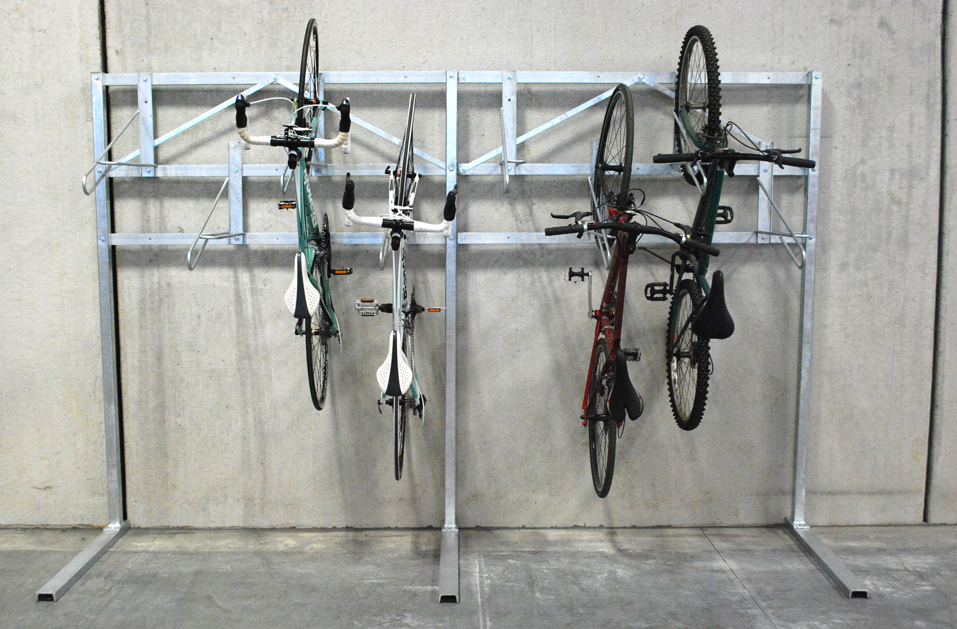 Getting Vertical Bike Storage Right
Vertical bike storage is effective in creating useful high density bike storage spaces. But when having to factor in the shape and available space, ceiling heights, mounting surfaces, obstructions, and so on, it can quickly become a burdensome task keeping you from successful solution.
Let the Madrax reps use their years of experience helping customers create vertical bike storage spaces to assist you to a quick, successful solution.
Use our live chat found in the lower-right of your browser to immediately start interacting with one of our reps (available during regular business hours). Or you can contact us and expect a response in less than one business day.
---
Related Resources
---