Your logo. You've probably put it on - or at least thought about putting it on - just about everything. But have you considered using your logo on a bike rack?
Custom bike racks with logos are great opportunities that can benefit you in a number of ways.
Branded bike racks can act like a billboard, increasing the visibility of your business and branding your company 24 hours a day. Schools, universities and municipalities can instill a sense of pride by placing bike racks that recognize their community. While the rack itself encourages active transportation.
How can you customize a bike rack to incorporate your logo? This is where in starts to get fun. Scroll down to see different examples and get inspired for how you can customize bike racks with your logo.
Turn Your Logo Into the Bike Rack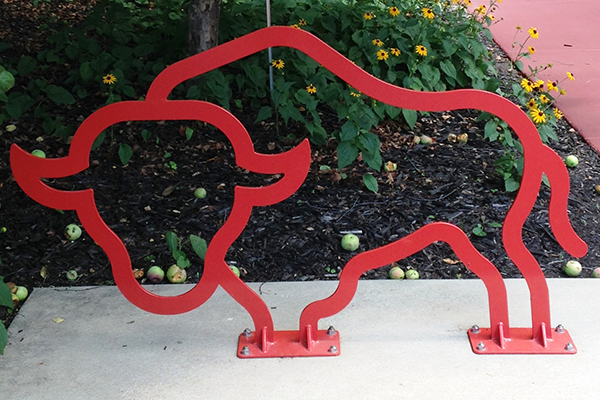 Depending on the complexity of your logo, it can become the bike rack. Either by bending steel tubing or plasma cutting steel (like the example above), your logo can be the bicycle rack.
The end product will need to conform to the four pillars of what makes a good bike rack:
Creates two points of contact with the bicycle when parked
Resists cutting and bending
Allows the bicycle to be locked to the rack using a u-style lock
Securely mounts to the ground
Additionally, the rack should be easily recognized as being a bike rack and intuitive to use. Adhering logos to these standards is not always possible or may require some modifications.
Customize the Lean Bar with Your Logo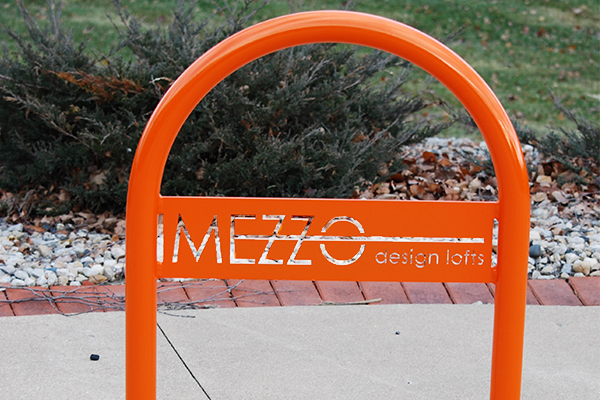 The lean bar is the flat strip of metal that spans from one leg of the rack to the other. These not only benefit cyclists by adding additional support to keep parked bicycles upright, they're ideal for incorporating logos. Your logo can be added as a cut-out of the lean bar.
Your logo can also be the lean bar. Sunny days provide the added benefit of casting a shadow of your logo.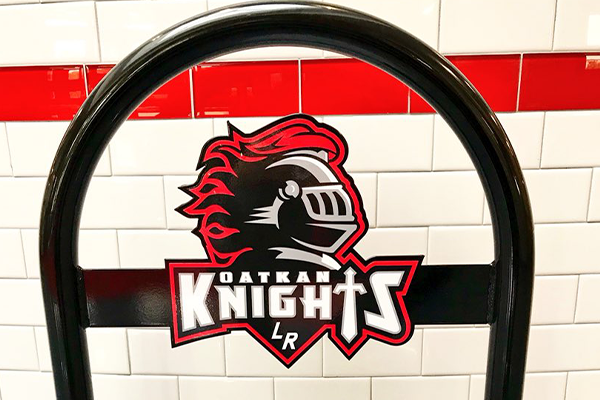 A custom lean bar can also incorporate your full-color logo. There are multiple ways to attach your logo to the rack. Giving you options to further customize and present your logo.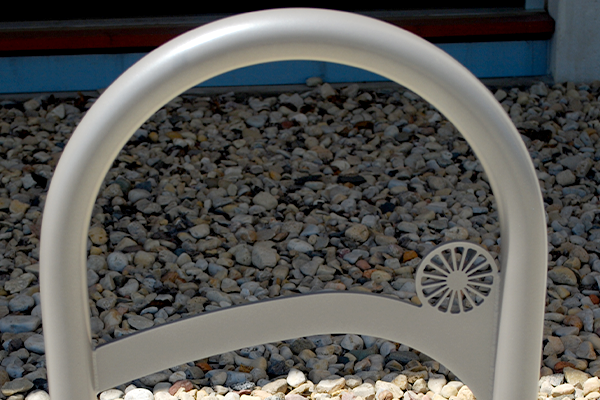 The lean bar can be stylized how you want it to appear so your logo can be crafted into the overall design.
Customized Post & Ring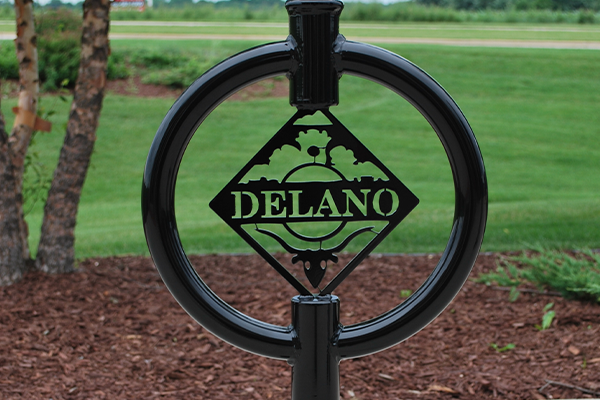 The Post & Ring bike rack is a different style of rack than an Inverted U Rack. This rack differs in its design in that it consists of a single leg, the "post", and a "ring" which is used to secure the bicycle to the rack. One way of customizing this rack with your logo is to have it inserted within the ring.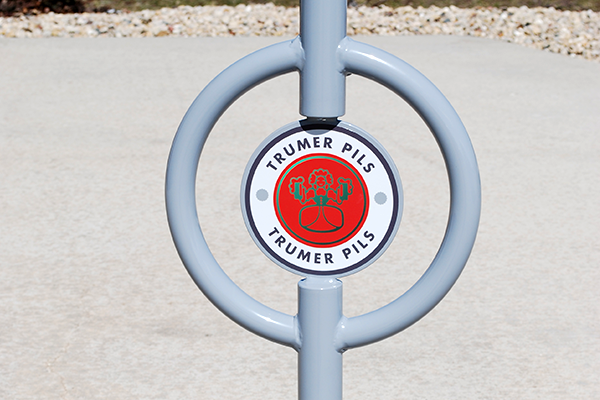 Your logo can also be attached to the Post & Ring rack using several different applications.
Creative Bike Racks with Logos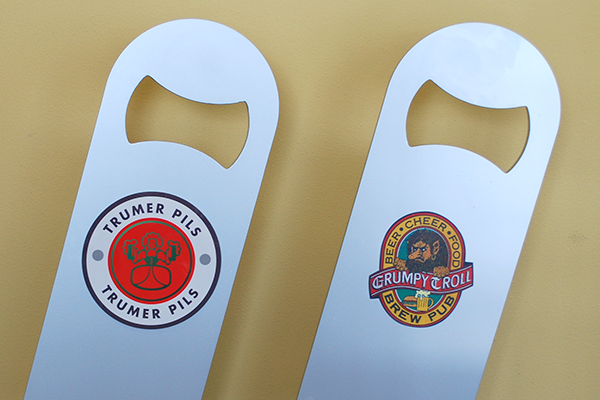 For this custom bike rack, a craft brewing company customized the rack to reflect an element of their business- a bottle opener. They then added the logos of their different beers to the racks.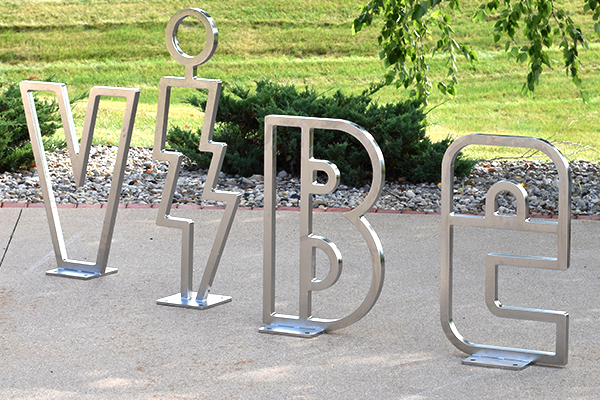 Spell it out! Utilize individual racks to re-create your logo or the name of your company. This is a unique way to show your logo that will ensure your place stands out.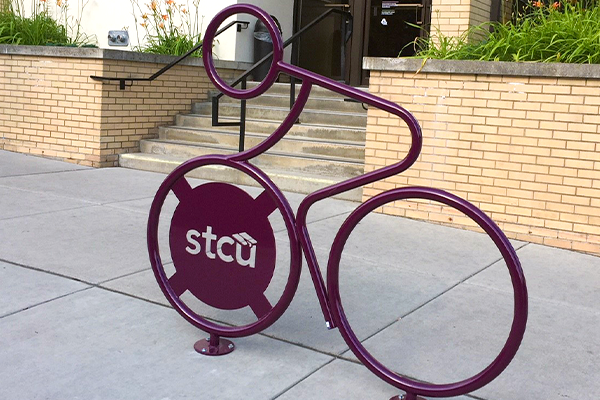 In this example, the educational institute added their logo to the Madrax Advocate bike rack. It was created by cutting the logo out of a piece of steel and inserting it in the "wheel" of the bike rack.
There are seemingly countless ways for your logo to be on a bike rack. As well as options that fit all sizes of budgets. If you have an idea for using your logo in a bike rack or you're looking for creative direction, Madrax is a great partner to bring your vision to life.
Get started on your custom bike rack. Contact us today for a no-obligation discussion that kicks off the process of getting a bike rack featuring your logo.