When it comes to creating accessible environments for everyone, the 2010 ADA Standards for Accessible Design serves as a comprehensive resource.
But how do bike racks fit into the equation? Are there any specific standards outlined in these guidelines?
The short answer is no, the ADA Standards do not have dedicated standards for bicycle racks.
However, it's crucial to be aware of certain regulations that can apply to bike racks, depending on design of the rack and location of the installation.
Use this guide to familiarize yourself with the ordinances before purchasing or installing a rack.
In this article, we'll explore ADA regulations and examine the practical applications in various bike rack designs. We'll also delve into the importance of creating proper aisles in ADA-compliant environments.
Objects On Posts
ADA Regulation 307.3: Post-Mounted Objects states:

"Free-standing objects mounted on posts or pylons shall overhang circulation paths 12 inches (305 mm) maximum when located 27 inches (685 mm) minimum and 80 inches (2030 mm) maximum above the finish floor or ground. Where a sign or other obstruction is mounted between posts or pylons and the clear distance between the posts or pylons is greater than 12 inches (305 mm), the lowest edge of such sign or obstruction shall be 27 inches (685 mm) maximum or 80 inches (2030 mm) minimum above the finish floor or ground."

This regulation is in place to ensure people with white canes are able to detect objects in their vicinity. Let's break down this regulation and explore how it applies practically to different bike rack designs.
Compliant Bike Rack Designs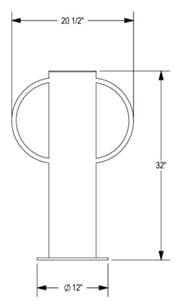 One example of an ADA-compliant bike rack is the Bike Bollard Rack. Lets take a look specifically at the Bollard 800 model. This rack has a total width of 20 ½ inches, ensuring that the top ring protrudes less than 12 inches on each side. This design conforms to ADA standards, as it doesn't obstruct circulation paths and maintains accessibility for everyone.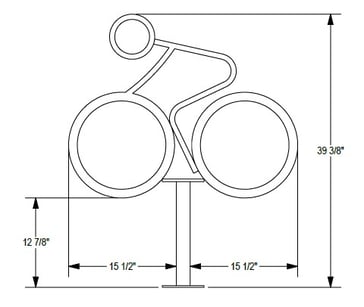 Another ADA-compliant rack is the Advocate Mini. While the sides of this rack extend more than 12 inches away from the pole on each side, the lowest edges of the rack are positioned below the required 27-inch threshold. This design ensures that the rack does not hinder accessibility, making it a suitable choice for ADA-compliant installations.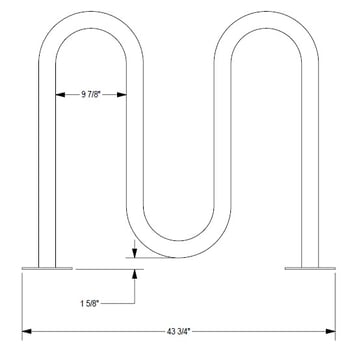 Lastly, let's consider the Heavy Duty Challenger rack. Despite having two posts separated by more than 12 inches, the Heavy Duty Challenger rack meets ADA compliance standards. Its lowest edge sits just 1 5/8 inches from the ground, and there's no gap wider than 12 inches between the low edges.

Creating Proper Aisles

Another ADA regulation related to bike racks involves the creation of proper aisles. To maintain accessibility, an aisle must have a clear width of at least 36 inches. This requirement extends to sidewalks, meaning that bike racks and the bikes attached to them cannot obstruct or impede this 36-inch pathway.

By adhering to this regulation, you not only ensure ADA compliance but also create an inclusive environment where everyone can move freely and safely. Properly designed aisles around bike racks facilitate ease of use for pedestrians and individuals with mobility challenges.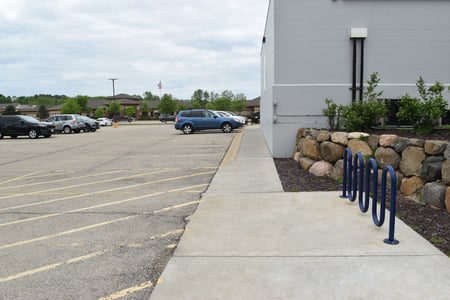 By selecting ADA-compliant bike rack designs and incorporating them into accessible spaces, you contribute to a more inclusive and equitable community for all individuals, regardless of their abilities. Compliance with these regulations is not just a legal requirement but also a step toward creating a more accessible and welcoming world.