Maple Bluff had been searching for a bike rack manufacturer but had not found anything comparable until they reviewed Madrax's production and custom bike rack capabilities. They then decided to partner with Madrax to engineer custom designed racks for their parks.
Client: In the Village of Maple Bluff, a vibrant community off the shores of Wisconsin's Lake Mendota, residents enjoy outdoor activities year-round in Maple Bluff's six parks that total over 13 acres. Both residents and Maple Bluff employees at the Parks & Recreation department knew that an upgrade was in order for the current bike racks in the parks, which were rusty and falling apart.
Then chance brought Hilary Graber, treasurer and customer service manager at Madrax, to an event at the village, where she connected with a member on the village board.
Challenge: The racks in use in Maple Bluff parks were well-used and weather-worn. Curt Erikson, Recreation Director and Deputy Treasurer at the Village of Maple Bluff, headed the rack replacement project, and had certain requirements for the racks:
Uniform look

Customized to represent the village

Match current furniture

Additionally, for Maple Bluff's largest park, Beach Park, Curt wanted a themed custom rack that was different from the rest.
Solution: From approval to install, the Madrax process took about 1.5 months. When Curt first contacted Hilary, they discussed parts, pricing, and design. Curt and Hilary settled on the following custom products from Madrax for Maple Bluff parks:
Maple Leaf Bike Racks: developed from the Madrax scenic bike rack, two end loops were added in design and parts were lasered to create the Maple Bluff maple leaf, which was inserted into the bike racks. These racks were powder coated.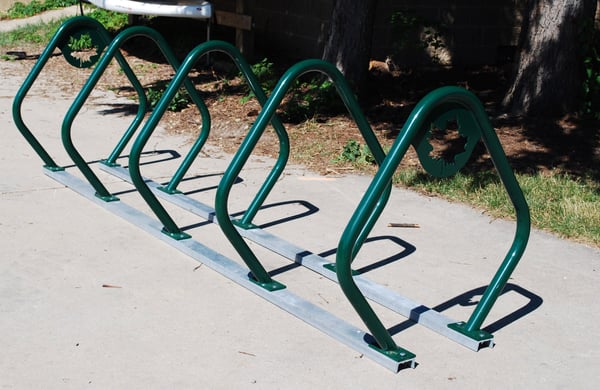 Muskie Fish Bike Rack: developed from the design of a custom shark rack produced by Madrax, the muskie fish custom bike rack was born for Maple Bluff's beach park. This rack was also powder coated.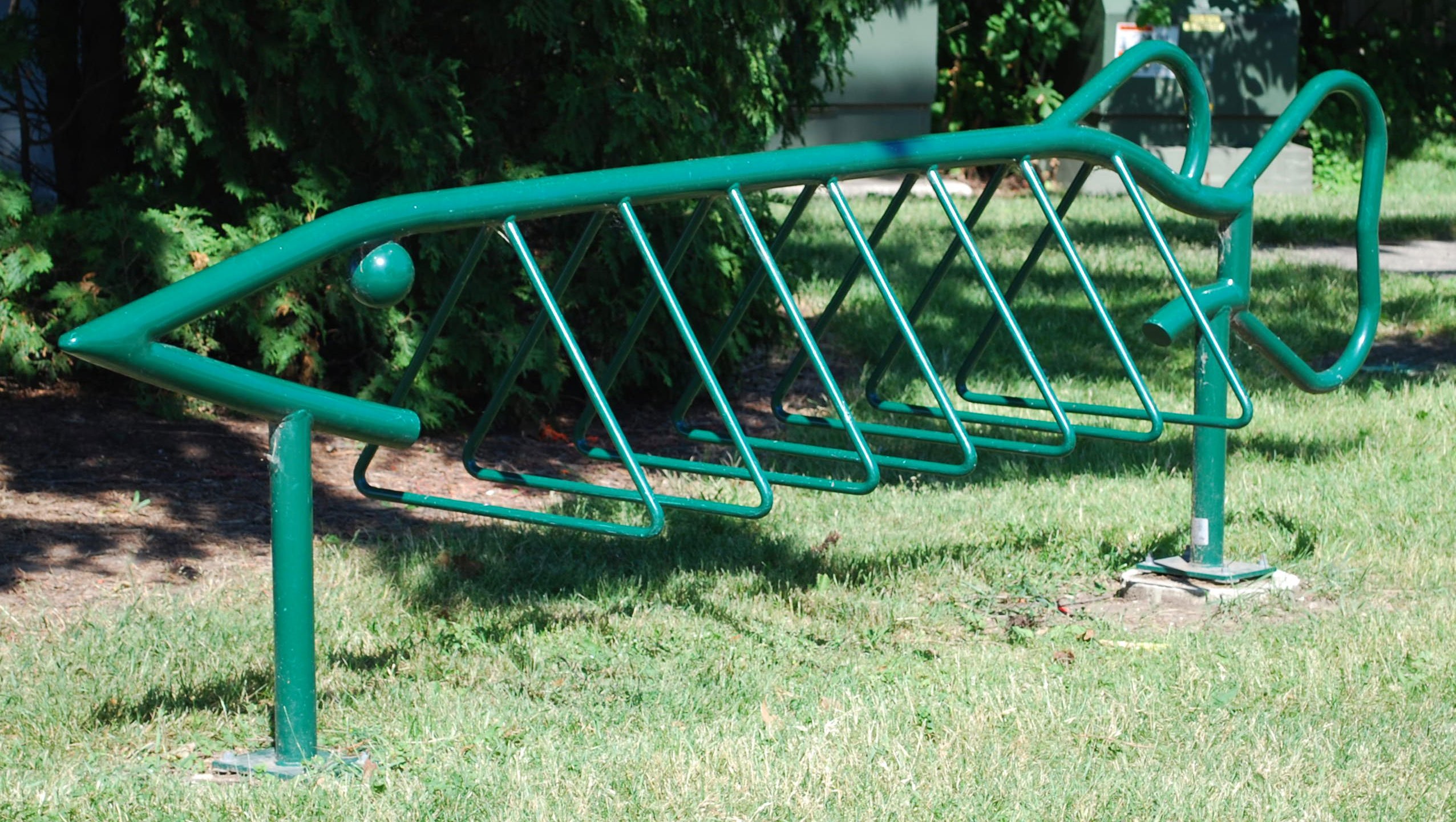 These designs were presented to the village board and approved for funding. Once approved, the fabrication department at Madrax received the order and began manufacturing the maple leaf bike racks and muskie fish bike rack.
Value of Madrax to Village of Maple Bluff
Madrax is accessible
Due to the accessibility of the Madrax staff, Curt appreciated working with Madrax to design bike racks for the Village of Maple Bluff. Able to get him exactly what he needed, when he needed it (like color samples so Curt could match the new bike racks with existing site furnishings), Madrax stood out to Curt in terms of responsiveness and high level of communication.
High capacity for designing unique custom bike racks
Curt knew that he wasn't getting a standard product from Madrax. He believes that due to Madrax's company size and flexibility during the design phase, they were able to deliver unique customized bike racks that met his every specification.
Curt strongly believes that Madrax is "top of the line in terms of appearance," and that the quality of Madrax's product defines the company.
Results: Today, both the maple leaf bike racks and the muskie bike rack stand a year later, and are "working really well, with no sign of winter use or significant scratch marks," according to Curt.
Curt would definitely reorder from Madrax, and the Village of Maple Bluff community is happy too. It's apparent that the creative outdoor bike racks are popular with residents and visitors alike. Simply move throughout the area, and you'll see the racks in use just about any time of the day.